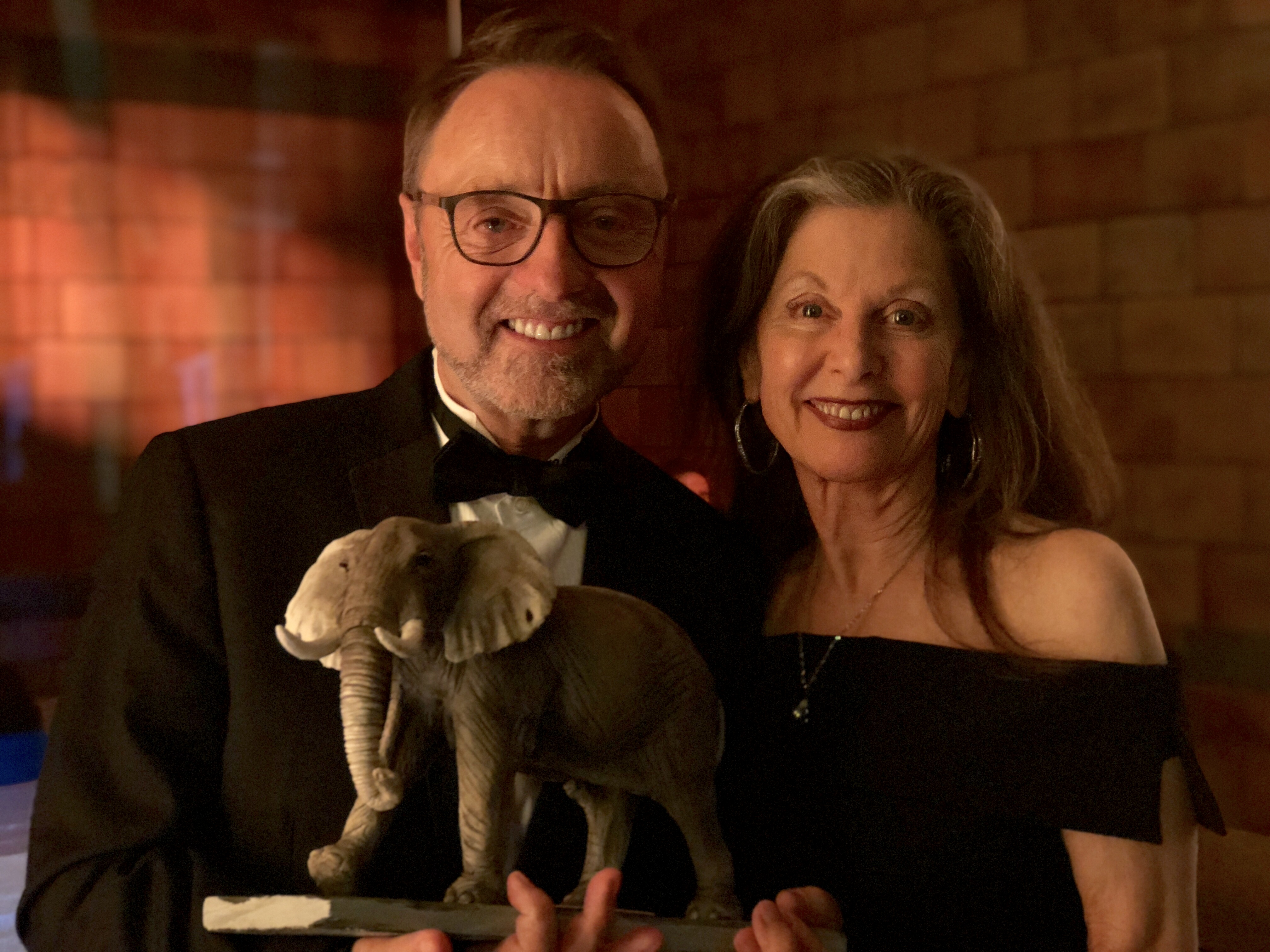 Frans Lanting honored with first Lifetime Achievement Award
at the Wildlife Photographer of the Year ceremony in London
LONDON, October 17, 2018.  We are pleased to announce that Frans Lanting has been honored with the Wildlife Photographer of the Year's first Lifetime Achievement Award, presented at a gala ceremony on the evening of October 16, 2018, held at the Natural History Museum in London.
In their announcement of Lanting's award, the Wildlife Photographer of the Year writes:
This prestigious award has been introduced in recognition of the exceptional contributions made by Frans Lanting to nature photography and wildlife conservation. Over more than three decades, he has set the standards for a whole generation of photographers. His images have been consistently memorable and original, and his signature eye-level perspectives and sophisticated lighting techniques have given rise to a catalogue of timeless photographs.
His assignments for National Geographic led to pioneering work in Madagascar, bringing to light the island's environmental problems, and in Botswana, focusing international attention on the country's wildlife and conservation policies. Other major bodies of work have included a first look at the fabled bonobos of the Congo, rainforest ecology in Borneo and the Amazon, the majesty and plight of the world's albatrosses, the nearly extinct Asiatic cheetahs in Iran, a year-long odyssey assessing global biodiversity at the turn of the millennium, and a remarkable study of chimpanzees in Senegal that is shedding new light on human evolution.
One of his biggest undertakings has been The LIFE Project, a seven-year quest to interpret the story of life on Earth. The project led to a book, LIFE: A Journey Through Time, an exhibition, and a multimedia symphony featuring Lanting's images and the music of Philip Glass.
Frans Lanting is undoubtedly one of the great nature photographers of our time. Through his numerous publications, exhibitions, public appearances, and active support of environmental organizations, Lanting uses photography to help create leverage for conservation efforts ranging from local initiatives to global campaigns—and to inspire a sense of wonder and concern about our living planet.
The many honours he has received include the Wildlife Photographer of the Year Award, a Fellowship to the Royal Photographic Society, Sweden's Lennart Nilsson Award, and The Netherlands' highest conservation honour, the Royal Order of the Golden Ark.
Frans Lanting says of his work, "Photography was once an excuse for me to seek out animals on their own ground: I sought a personal connection. But now there is an equally important social component to what I do. I hope my experiences can be a bridge between the animal world and the millions of people who will never crouch before an elephant or hunt with lions in the African night. What my eyes search for is not just the beauty often pursued by photographers. The perfection I seek in my images is a means to show the strength and dignity of animals in nature. My life's work is my tribute to them, and to preserving the unity of life on earth."
In celebration of this award, Frans Lanting will share a selection of his most famous images on social media, with calls to action to support the individuals and organizations who are working to protect wildlife and wild places in order to secure a future for all life on earth.